Tony K. Conjugacion
Kumu Hula / Chanter / Choreographer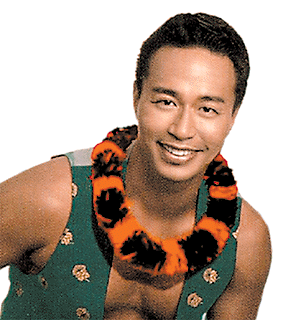 (Photo courtesy of starbulletin.com)

Tony K. Conjugacion is an award-winning composer, songwriter, recording artist and Kumu Hula. Tony's hula career started at the age of nine when he met Kumu Hula Maiki Aiu Lake, the choreographer for the Melveen Leed Show which featured Tony as a singer. Though Maiki took a considerable interest in Tony, she advised him to study with a male teacher first, recommending Darrell Lupenui. In the meantime, Maiki initially trained Tony in chanting by teaching him various 'oli and sending him to some of her teachers like 'Iolani Luahine, Alice Namakelua, and Muriel Lupenui.
Between the ages of nine and fourteen, Tony focused on chanting and trained with Darrell and his mother, Muriel, until 1980. He later started studying with Maiki who had planned to complete Tony's formal training. Maiki's untimely death in 1984 put a hold on his completion. He continued training with Edward P. Kalahiki, Jr. but did not 'uniki with him due to differences in what he had learned from previous teachers. Tony's cousin, Kekau'ilani Kalama convinced him that what he already had was more than enough and that the 'uniki rituals and ceremonies would be only a formality for him. He then, fortunately, met a doyenne of hula and respected Hawaiian musician and scholar, Vicki I'i Rodrigues who gave him the rituals necessary, and fortified him through a private hu'elepo and 'ailolo. She was the last of his teachers, passing away in 1987, and leaving a good part of her legacy with Tony and her daughter, Nina Keali'iwahamana Rapozo. Tony assisted his hula sister, J. Leimomi Ho and her hula school, Keali'ika'apunihonuake'enaa'ohula for three years.
In 1990, Tony moved to New York City to further his performing career, and was cast in the original Broadway production of Miss Saigon. While in New York, he taught hula and chanting workshops. After returning to the islands, he began teaching for Palama Settlement as a means to give back to the community in which he was raised. In 1997, he established his own halau, Halau Na Wainohia, a name given to him by Muriel Lupenui. His home base halau is located in Honolulu. Currently, his hula students branch out as far as Japan, studying with Na Lei O Kapua'auli'i, an affiliated halau under the direction of his haumana, 'Auli'i Terabe. Tony actively teaches throughout the US, and generously shares his knowledge as his teachers did.
(Excerpt from the Hawai'i Cultural Foundation flyer for his June 5, 1999 workshops)

Kalena's Home | Hawaiian Resources
New York City Metro | Greater Boston and New England
Merrie Monarch Hula Festival
Updated 15 May 1999 by kalena@kalena.com.
Copyright © 1999 by Karen R Sabog. All rights reserved.

http://www.kalena.com/hcf/bio/tony_conjugacion.html