E Komo Mai (Welcome)!
The Merrie Monarch Festival is a week-long cultural event held annually in Hilo on the island of Hawaii (also known as the "Big Island"). Festivities start on Easter Sunday and culminate with the hula competition events at Edith Kanakaʻole Tennis Stadium — Miss Aloha Hula on Thursday, Hula Kahiko on Friday, and Hula ʻAuana on Saturday.
The 59th Merrie Monarch Festival (2022) hula competition is scheduled this year from April 21-23, 2022.
Uncle George Naʻope
"Hawai'i's Golden Treasure"
Uncle George Naʻope, cofounder of the Merrie Monarch Festival, has gone up to the heavens ... rest in peace.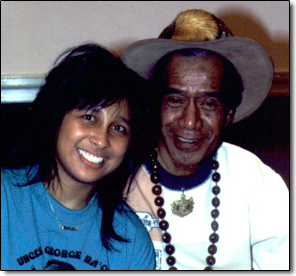 Karen Sabog and Uncle George Naʻope
(March 1996 Hula Mae'ole Seminar in New Jersey)
This Web site is brought to you with the spirit of aloha!